Taiwan News
2014.05.16
VIETNAM PROTESTS: Vietnamese residents hope good relations will continue
SAY NO TO RETALIATION:The head of the Pearl S. Buck Foundation urged Taiwanese to stay rational and not to vent their anger on Vietnamese immigrants and workers
SAY NO TO RETALIATION:

The head of the Pearl S. Buck Foundation urged Taiwanese to stay rational and not to vent their anger on Vietnamese immigrants and workers



Staff writer, with CNA  

Fri, May 16, 2014 - Page 3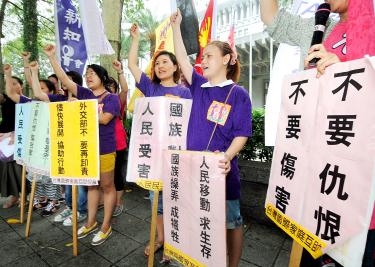 About a dozen women representing associations for foreign spouses and workers gather in front of the headquarters of the Ministry of Foreign Affairs in Taipei yesterday, asking people not to direct their anger over the anti-Chinese riots in Vietnam against them.
Photo: Fang Pin-chao, Taipei Times





Vietnamese living in Taiwan said they hope relations between Taiwanese and Vietnamese will not be affected by the anti-China protests in Vietnam that have turned violent and harmed some Taiwanese-run businesses there.
"I urge Vietnamese people not to be incited and not to participate in the actions. It's not good for families and society," said Hoang Oanh, who also goes by the Chinese name Yen Pei-ying (嚴沛瑩).
Hoang, who works at the National Immigration Agency as a consultant for new immigrants, said she has received a lot of help from the Taiwanese government and people since she came to the country 19 years ago.
As a counselor and translator, Hoang said she has had a lot of opportunities to make contact with Vietnamese officials visiting Taiwan.
"I truly feel that both countries are working very hard to build friendly relations," she said.
Hoang said that after the news about the violent protests broke, she contacted a Vietnamese immigrant in Taiwan who was "very worried" about her parents in Binh Duong Province, where the violence was concentrated, and wanted to return home to be with them.
Hoang said she has a nephew who works at a garment factory owned by Taiwanese in Binh Duong. The nephew said the company's front gate was destroyed and his Taiwanese managers had fled to hotels to seek shelter.
The managers told the employees: "There's no need to go to work, go home and hide from the riots," Hoang said.
Another Vietnamese immigrant who goes by the Chinese name Ou Yu-fang said she considers both Taiwan and Vietnam her home and is worried that the violence would cause friction between her relatives on the two sides.
Ou said she has tried to explain to Vietnamese the difference between Taiwan and China and hopes the protests will end peacefully.
Hsiao Hsiu-ling (蕭秀玲), executive director of the Pearl S. Buck Foundation in Taipei, said it is unfortunate that Taiwanese businesses have been harmed in the South China Sea dispute between Vietnam and China, but her group is not aware of any retaliatory acts against Vietnamese in Taiwan.
"It shows that Taiwan is a highly rational society," said Hsiao, whose foundation provides services to foreign spouses and their children in Taiwan.
Still, she urged Taiwanese not to vent their anger on Vietnamese immigrants and workers around them.
The protests, which began on Monday, were triggered by China's deployment of an oil rig in waters near the Paracel Islands (西沙群島, Xisha Islands), which Taiwan, Vietnam and China claim.
Factories owned by businesspeople from Taiwan, Japan, South Korea and Singapore in the industrial zones of Binh Duong and Dong Nai provinces have been looted and damaged by the protesters.



 Source: Taipei Times