Taiwan News
2014.05.15
Group calls on firms to support same-sex couples
By Loa Iok-sin  /  Staff reporter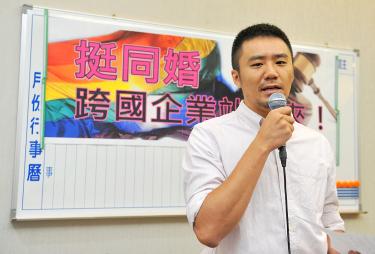 Photo: Liu Hsin-de, Taipei Times
The Taiwan International Association for Gay Rights yesterday urged businesses to show support for granting same-sex couples the same rights as heterosexual couples.
"Last year, as many as 278 US companies petitioned federal courts to show their support for same-sex marriage," Chen Chih-ming (陳志明), the group's president, told a news conference at the Legislative Yuan in Taipei yesterday.
"We hope that Taiwanese companies as well as branches of these 278 US companies in Taiwan will show the same degree of support for gay rights," Chen added.
Companies that joined the petition included Amazon.com, CBS, Cisco Systems, Citigroup, Facebook, IBM, Apple, Microsoft, Intel, Starbucks and Google, Chen said.
Chen said that the firms voiced their support for gay marriage and many of them also granted benefits to their employees with same-sex partners, such as pensions, insurance and leave.
"We've contacted branches of these companies in Taiwan and so far IBM, Google and Microsoft said that they will take the same stance as their headquarters in the US to support gay rights," Chen said. "Besides US-based transnational corporations, we would like to call on Taiwan-based enterprises to do the same."
"Employees are a company's most important asset. Treating them well, regardless of their sexual orientation, will motivate them to work harder," Chen said.
Chen said that Chinese Nationalist Party (KMT) conveners of the Judiciary and Organic Laws and Statutes Committee Lu Hsueh-chang (呂學樟) and Liao Cheng-ching (廖正井) should "schedule a review of amendments [to the Civil Code] proposed by Democratic Progressive Party Legislator Cheng Li-chun [鄭麗君] to allow same-sex marriage."

Source: Taipei Times